Earlier this year Iowa Safe Routes to School Reached out to the City of Stanton to learn more about the recreational trail being built on public land around the community. We had heard great things and wanted to know how we could help.
Stanton, Iowa if you are unfamiliar is in southwest Iowa with a population of about eight people. When we started chatting with the community leaders we learned that Stanton thought it was crucial to keep its community members active and healthy. That is why the city was building a loop trail around the community. Stanton wanted SRTS's help but not in the normal way. Community leaders asked if we would be willing to conduct a walk audit from the elementary school to a local park. We were more than glad to offer our walking expertise and help the community improve its walkability for the kids of Stanton as well as the entire community.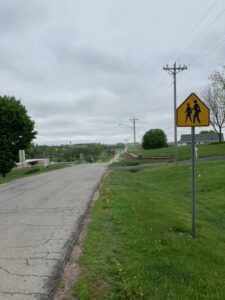 So one humid May morning Iowa Safe Routes to School drove down to Stanton and conducted our first walk audit. With the help of four local residents and Iowa Safe Routes to School staff utilizing the AARP walk audit guide, we spent about an hour walk a six-block corridor.
When we were done we learned the following:
– Filling gaps in the sidewalk network
– The sidewalk needed to be replaced in certain sections
– Connecting the sidewalk to the trail system where they intersect would enhance walkability.

In addition, the elementary school was kind enough to do a quick travel tally learning how the students traveled to school. However, with the potential for rain, not many kids walked on the day the tally was taken.
Iowa Safe Routes to School looks forward to helping activate the new trail system and working with parents and community leaders to walk and bike to school more often.
If you'd like to read the walk audit click on the download button below.
If you have any questions and would like to learn more about working with Iowa Safe Routes to School In your community please email jared@iowabike.org